The waste tyre to oil plant adopts the advanced pyrolysis technology, which makes it as an effective way to deal with waste tyres. The plant can be also called waste tyre pyrolysis plant. Through the whole tyre to oil recycling process, we can get about 50% tyre oil, 30% carbon black and 12% steel wire. All of these end products have high economic value and can sell well in the market.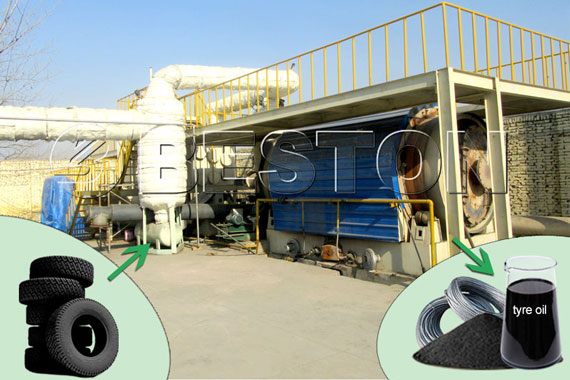 Wide Applications of Beston Waste Tyre to Oil Plant for Sale
* For the tyre pyrolysis oil, on the one hand, it can be sold directly or widely used as industrial fuel materials for burning. On the other hand, if further refined to diesel or gasoline, it can be directly used in low speed engines such as digging machine, road roller or loading machine, etc.
* The carbon black can be used for construction bricks with clay, also can be used as fuel.
* The steel wire can be recycled into smelting plant.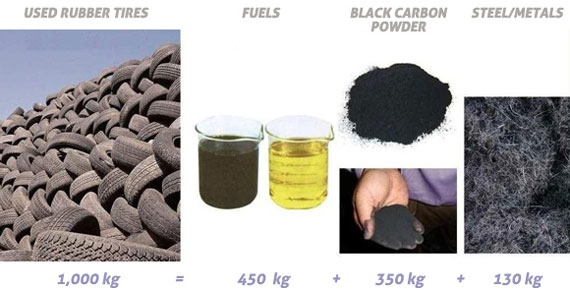 Waste Tyre to Oil Recycling Process Description
1. Put the waste tires into reactor and make reactor rotate clockwise 0.4-0.8r/min. Seal the feeding inlet door tightly and make sure there is no gas leakage.
2. Heat the reactor by using coal, charcoal, fuel gas, wood etc. as heating materials. The reactor will be slowly heated, and when the temperature reach about 250℃, the oil gas will be formed.
3. The oil gas coming out from the reactor then go to condensing system and get liquid oil.
4. The gas which can't be liquefied under normal pressure will be designed to go back to combustion system through safety device. It can be recycled to heat the reactor as fuel, which will save energy for the whole working process.
5. After finishing oil production, the temperature of the reactor will be cooled down, when the temperature falls down to 40℃, the carbon black and steel wire will be discharged automatically.
Featured Advantages of Beston Waste Tyres to Oil Machinery
Firstly, safe.
All of our tyre to oil plants are equipped with mature safety devices, such as thermometer, pressure gauge, safety valve and electric control system and so on. Once something dangerous happens, the workers will know immediately and can take response measures in time.
Secondly, energy saving.
In the tyres to oil recycling process, there is also a little combustible gas produced. By the extra gas recycling system, the gas can be recycled to heat the reactor as fuel, which will save energy for the whole working process.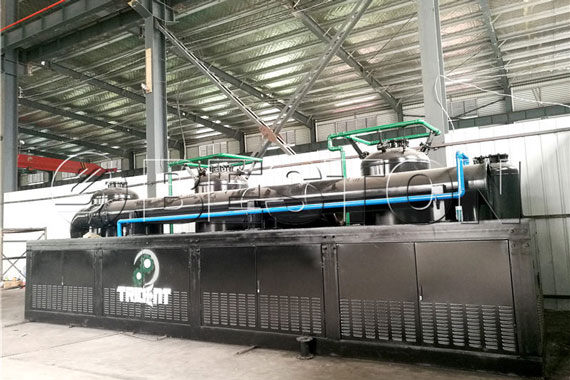 Thirdly, environment friendly.
Our tires to oil machine is equipped with advanced dedusting system(dust chemical removing tank, ceramic ring filtering system and alkali sprayers). In the system, three steps are used to dedust the hot smoke from reactor, more than 95% of the dust would be removed. The released gas is pollution-free and can be discharged in the air directly.
Fourthly, longer service life.
The service life of our tyre to oil machines can reach 5-8 years, which will save money for you to maintain and update the plant.
To meet different customers' demands, we hav six models of the waste tyre to oil plant, such as BLJ-6, BLJ-10, BLL-16, BLL-30, BLL-40 and BLL-50. Their handling capacities range from 6 to 50 tons per day. So far, all of our plants have passed CE, ISO, SGS certification and have been exported to more than 20 countries, such as Brazil, Dominica, Jordan, Korea, Turkey, Nigeria, etc. Meanwhile, we have established a good relationship with our customers and have won a good reputation all over the world.
Basic Parameter:
Data
BLJ-6
BLJ-10
BLL-16
BLL-30,BLL-40,BLL-50
Daily capacity
6 MT
10 MT
20 MT
30MT,40MT,50MT
Raw material
Waste tires,rubber,plastic,oil sludge,medical waste
Working method
Batch
Semi-Continuous
Fully continuous
Operating pressure
Constant pressure
Reactor rotate speed
0.4 turn/minute
Not rotary type
Total power
24 kw/h
30 kw/h
54 kw/h
53.6,62,84(kw/h)
Reactor size(m)
2.2*5.1
2.8*L6.2
D2.8 *L7.1
L12.5XW2.2XH2.5
Space (L*W*H)
20*10*10 m
25*15*10 m
25*15*10 m
20*15*10m,33*15*10m