The waste tyre recycling process is a process of pyrolysis. By using the waste tyre recycle plant, these waste tyres can be converted into useful resources. The following is the working process of our plant.
1.Put the waste tyres into the reactor.
2.Heat the reactor by using coal, charcoal, fuel gas, wood etc. as heating materials. The reactor will be slowly heated, when the temperature reaches around 250℃, the oil gas will be produced.
3.Oil gas goes to cooling system to be liquid oil. The gas which can not be liquefied under normal pressure will go back to combustion system. It will replace the fuel material to heat the reactor, which is energy saving and environment friendly.
4.After finishing oil production, the temperature of reactor will be down. We can also get carbon black and steel wire.
5.The smoke produced from reactor will be processed by dedusting system. At last, the gas will be pollution-free and can be discharged into the air directly.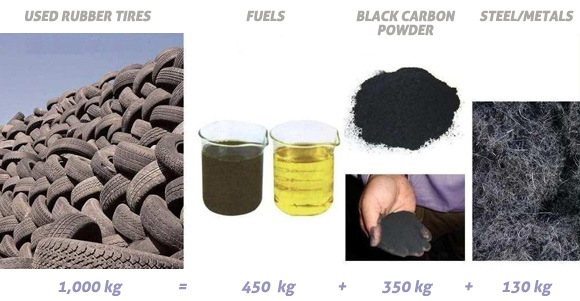 After the end of pyrolysis process, we can get tyre oil, carbon black, steel wire. They all have a wide applications. For example, the tyre oil can be widely used as fuel oil in industries such as steel and iron and Boiler factories, ceramics, power or chemical industries etc. And it can be used for generators to get electricity. The carbon black can be used for construction bricks with clay, also can be used as fuel. The steel wire can be recycled into smelting plant.
If you are interested in our waste tyre recycle plants, please contact us in time, and we will reply you within 24 hours.
Model
BLJ-6
BLJ-10
BLJ-16
BLL-20
Daily Capacity
6T
8-10T
15-20T
20-24T
Working Method
Batch
Semi-Continuous
Fully Continuous
Raw Materials
Waste Plastic, Tyre, Rubber, Oil Sludge
Reactor Size
D2.2*L6.0m
D2.6*L6.6m
D2.8*L7.1m
D1.4*L11m
Pattern
Horizontal & Rotary
Heating Materials
Charcoal, Wood, Fuel Oil, Natural Gas, LPG, etc.
Total Power
24kw/h
30kw/h
54kw/h
71.4kw/h
Floor Area (L*W*H)
30*10*8m
30*10*8m
40*10*8m
45*25*10m
Operating Pressure
Normal Pressure
Constant Pressure
Cooling Method
Water Cooling
Service Life
5-8 Years