In addition to the price of the plant, there are many other factors affecting the waste tyre recycling plant cost and you should take them into consideration comprehensively.
First of all, the quality. The plants manufactured by Beston has passed CE, ISO, SGS certificates and has high quality guarantee. Besides, our plants have the latest furnace design which will lengthen the life span of the main reactor for extra 2-3 years. The service life of our plants can reach as long as 5-8 years, which will save money for customers to maintain and update the plants.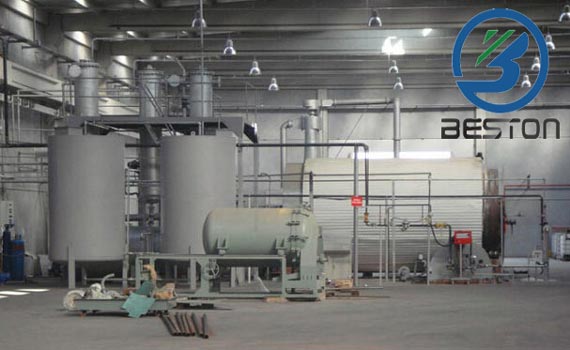 Secondly, the economic values of the final products. When choosing a machine, you should consider whether the final products can make money for you. Our plant adopt the famous pyrolysis technology. By this technology, you can get tire oil, carbon black and steel wire from waste tyres. The tire oil can be used as industrial fuel materials for burning, or further refined to diesel or gasoline. The carbon black can be used for making construction bricks with clay or used as fuel. The steel wire can be sold directly or recycled to produce new steel products. These end products with high economic value will help you get your cost back soon and create high benefits for you.
Thirdly, the after-sales service is also an important factor affecting the tyre recycling machine cost. Most manufacturers will charge for the installation. But we will provide 1 months' installation service for free. Besides, we also provide 1 year warranty period and lifelong maintenance. Our engineers are available to serve at any time.
Besides, there are still many other factors affecting the cost. For example, wages for workers, electric charge and space expenses etc. If you need more detailed cost analysis, please feel free to consult us at any time. We have special customer service 24-hour online.
Model
BLJ-6
BLJ-10
BLJ-16
BLL-20
Daily Capacity
6T
8-10T
15-20T
20-24T
Working Method
Batch
Semi-Continuous
Fully Continuous
Raw Materials
Waste Plastic, Tyre, Rubber, Oil Sludge
Reactor Size
D2.2*L6.0m
D2.6*L6.6m
D2.8*L7.1m
D1.4*L11m
Pattern
Horizontal & Rotary
Heating Materials
Charcoal, Wood, Fuel Oil, Natural Gas, LPG, etc.
Total Power
24kw/h
30kw/h
54kw/h
71.4kw/h
Floor Area (L*W*H)
30*10*8m
30*10*8m
40*10*8m
45*25*10m
Operating Pressure
Normal Pressure
Constant Pressure
Cooling Method
Water Cooling
Service Life
5-8 Years