In order to dispose the mountainous waste tires in the world, Beston Machinery has developed the old tyre recycling plant, which is aimed at pyrolysis tyres into oil. Generally, the end-products from waste tires include about 45% tire oil, 35% carbon black, 12% steel wire and 8% combustible gas.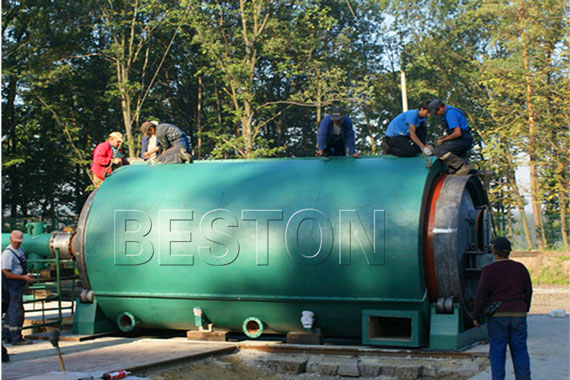 Applications of the end-products:
Tyre oil: can be widely used as fuel oil in industries such as steel and iron and Boiler factories, ceramics, power or chemical industries etc. And it can be used for generators to get electricity.
Carbon black: can be used for making construction bricks with clay or used as fuel. If further processed, the carbon black will have higher value and wider applications.
Steel wire: can be recycled into smelting plant, or used to make steel and iron rod.
Combustible gas: can be recycled to heat the reactor as fuel, which will save energy for the whole working process.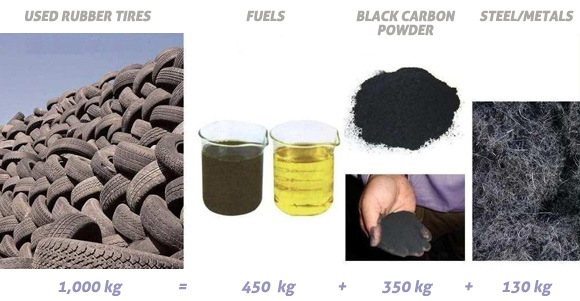 To meet the different needs of customers, we have designed six models of old tyre recycling machine, such as BLJ-6, BLJ-10, BLL-16, BLL-30, BLL-40 and BLL-50. Their operating system can be batch, semi-automatic and fully continuous and their daily processing capacities range from 6 to 50 tons.
No matter which model and operating system you choose, we all promise you high-quality product and first-class service. If you have any special requirements, we can also customize the plant according to your demands. Please don't hesitate to consult us if you have any problem with the machine and we are ready to serve you at any time.
Model
BLJ-6
BLJ-10
BLJ-16
BLL-20
Daily Capacity
6T
8-10T
15-20T
20-24T
Working Method
Batch
Semi-Continuous
Fully Continuous
Raw Materials
Waste Plastic, Tyre, Rubber, Oil Sludge
Reactor Size
D2.2*L6.0m
D2.6*L6.6m
D2.8*L7.1m
D1.4*L11m
Pattern
Horizontal & Rotary
Heating Materials
Charcoal, Wood, Fuel Oil, Natural Gas, LPG, etc.
Total Power
24kw/h
30kw/h
54kw/h
71.4kw/h
Floor Area (L*W*H)
30*10*8m
30*10*8m
40*10*8m
45*25*10m
Operating Pressure
Normal Pressure
Constant Pressure
Cooling Method
Water Cooling
Service Life
5-8 Years