As a professional manufacturer and supplier of waste tyre pyrolysis plant in China, we not only guarantee the quality of the products, but also provide excellent service for all the customers.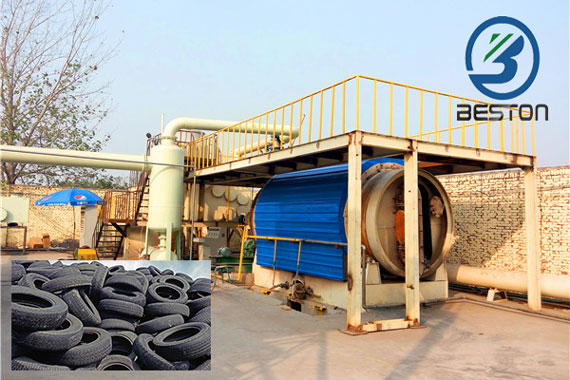 The waste tyre recycling pyrolysis plant in China is also equipped with mature safety devices (alarm for over temperature and pressure, auto pressure releasing system, extra gas recycling system, fire fighting devices) and advanced dedusting system (dust chemical removing tank, ceramic ring filtering system and alkali sprayers). So the whole production process is very safe, energy saving and environment friendly.
Our waste tyre pyrolysis plant in China mainly include batch operating plant and continuous operating plant. There are some differences between them. Firstly, for the continuous plant, the feeding of raw materials and discharging of slag are both automatic, while for the batch plant, the feeding process is manual. Secondly, the continuous pyrolysis plant needs a shredder machine to cut tyres into small pieces (about 30-50mm). While the batching plant doesn't need this device. Thirdly, the continuous plant can work 3-4 shifts per day, while the batch plant works 1 shift per day and the reactor must be cooled before the second batch.
After-sales Service:
1. Design the installation drawings according to your site.
2. 1-year warranty, engineers available to service at any time.
3. Periodical call visit, to make sure there are no problems with the equipment.
4. Design a specific maintenance program according to different situation of your plant.
5. For each set of machine, one technician will be sent to guide your installation, test the machine and train your workers. Besides, we will provide one month's service for free.
Model
BLJ-6
BLJ-10
BLJ-16
BLL-20
Daily Capacity
6T
8-10T
15-20T
20-24T
Working Method
Batch
Semi-Continuous
Fully Continuous
Raw Materials
Waste Plastic, Tyre, Rubber, Oil Sludge
Reactor Size
D2.2*L6.0m
D2.6*L6.6m
D2.8*L7.1m
D1.4*L11m
Pattern
Horizontal & Rotary
Heating Materials
Charcoal, Wood, Fuel Oil, Natural Gas, LPG, etc.
Total Power
24kw/h
30kw/h
54kw/h
71.4kw/h
Floor Area (L*W*H)
30*10*8m
30*10*8m
40*10*8m
45*25*10m
Operating Pressure
Normal Pressure
Constant Pressure
Cooling Method
Water Cooling
Service Life
5-8 Years