Generally, there are three types of tyre pyrolysis plants, batch operating plants, semi-automatic operating plant and fully continuous operating plant. However, the two operating systems are still many differences.
Model
BLJ-6
BLJ-10
Daily Capacity
6T
8-10T
Total power
24 kw/h
30 kw/h
Floor area (L*W*H)
20*10*10 m
25*15*10 m
Size of reactor
D2.2*L 5.1m
D2.8*L6.2 m
Pattern
Horizontal & rotary
Working method
Batch
| | |
| --- | --- |
| Model | BLL-16 |
| Daily capacity | 16-20T |
| Working method | Semi-continuous |
| Size of reactor | D2.8 *L7.1 m |
| Pattern | Horizontal & rotary |
| Floor area | 25*15*10 m (L*W*H) |
| Total power | 54 kw/h |
Model
BLL-30
BLL-40
BLL-50
Daily Capacity
30T
40T
50T
Working method
Fully continuous
Size of reactor
L12.5*W2.2*H2.5m
Pattern
Not rotary type
Floor area
20*15*10m
33*15*10m
33*15*10m
Total power
53.6kw/h
62kw/h
84kw/h
The following is a detailed description of the waste tyre pyrolysis process:
1.Pretreatment
For the continuous type, its feeding hole is very small, so it needs a shredder machine to cut tyre into small pieces (about 30-50mm). While for the batch system, the tyre can be directly put into the reactor without being pretreated.
2. Feed raw materials
For the continuous type, the waste tires can be put into reactor by an auto-feeder. While for the batch type, this process is manual.
3. Tyre Pyrolysis
Heat the reactor by using fuel materials, such as coal, charcoal, fuel gas, wood etc. The reactor will be slowly heated, when the temperature reaches around 250℃, the oil gas will be produced.
4. Condensing
A part of oil gas will be processed by our technology and then goes to cooling system to form liquid oil. We adopt new-type condenser which can improve the oil yield efficiency and make the oil yield to the maximum.

5. Extra gas recycling
The gas which can not be liquefied under normal pressure will go back to combustion system. It can be used as fuel material to heat the reactor, which will save energy for the whole working process.
6. Discharge
In the process, there are also carbon black and steel wire produced. For the continuous type, the discharging of these two products are both automatic. While for the batch type, the discharging of steel wire is manual. When the temperature falls down to 40℃,  workers can open the door and take the steel wire out.
When the whole working process has been finished, the reactor of the batch type must be cooled and then you can start another batch. After knowing their different working processes, you can choose the plant and system according to your actual need. For more requirement, we can also provide you with customized plants.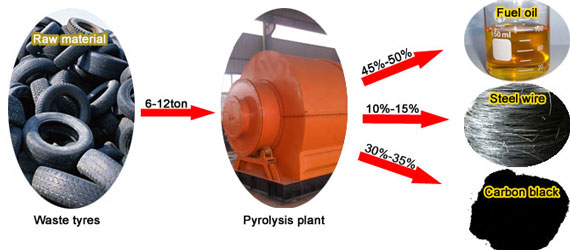 Basic Parameter:
Data
BLJ-6
BLJ-10
BLL-16
BLL-30,BLL-40,BLL-50
Daily capacity
6 MT
10 MT
20 MT
30MT,40MT,50MT
Raw material
Waste tires,rubber,plastic,oil sludge,medical waste
Working method
Batch
Semi-Continuous
Fully continuous
Operating pressure
Constant pressure
Reactor rotate speed
0.4 turn/minute
Not rotary type
Total power
24 kw/h
30 kw/h
54 kw/h
53.6,62,84(kw/h)
Reactor size(m)
2.2*5.1
2.8*L6.2
D2.8 *L7.1
L12.5XW2.2XH2.5
Space (L*W*H)
20*10*10 m
25*15*10 m
25*15*10 m
20*15*10m,33*15*10m