Nowadays, in order to dispose waste plastic in an environmental protection and profitable way, Beston Group has designed the newest waste plastic to fuel conversion plant for sale. The plant can help completing the process of pyrolysis waste plastic to fuel oil, which can not only solve the serious plastic pollution problems, but also improve the environment as well as create profits for customers.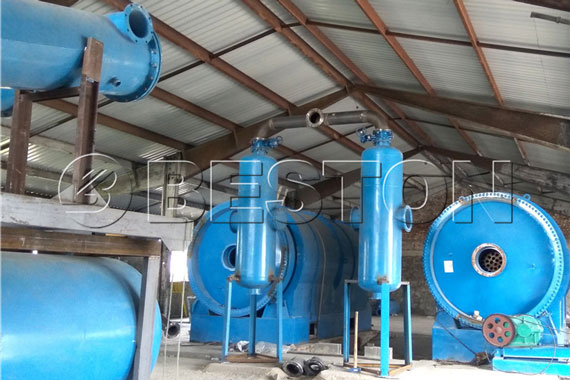 The plastic to fuel machine adopts the advanced and latest pyrolysis technology, which helps finishing the whole process of waste plastic to fuel by high temperature heating. The fuel from plastic waste is useful resource and has wide applications. It can be widely used as industrial fuel materials for burning. If further refined to diesel or gasoline, the oil can be used in low speed engines such as digging machine, road roller or loading machine, etc. What's more, it also can help in relieving energy crisis.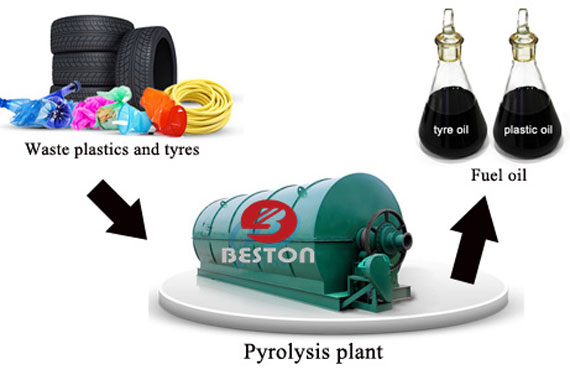 Besides plastic pyrolysis oil, we can also get carbon black and a little combustible gas from the plastic to fuel conversion process. The carbon black can be sold directly. It also can be used for making construction bricks with clay or used as fuel. If further processed by Beston carbon black processing plant, the carbon black has higher value and wider applications. As for the combustible gas, it can be recycled to heat the reactor as fuel, which will save energy for the whole plastic to fuel process.

What's more, we have two methods to improve the oil yield for the waste plastic to fuel conversion plant for sale. Firstly, compared with general condensers, our tubular condenser has the features of larger cooling area and better cooling effect, which can greatly improve the oil yield. Besides, it is easy to maintain, which is very convenient for customers. Secondly, we can provide special catalyst, which is made from 24 chemicals. The catalyst can not only reduce sulfur content and density of oil, but also improve its flavor and color. It can increase average oil output by 5%.
Pyrolysis of Waste Plastics into Fuels can be Described as Follow:
Firstly, feed the plastic into reactor and make reactor rotate clockwise 0.4-0.8r/min. Seal the feeding inlet door tightly and make sure there is no gas leakage.
Secondly, heat the reactor by using coal, charcoal, fuel gas, wood etc. as heating materials. The reactor will be slowly heated, and when the temperature reach about 250℃, the oil gas will be formed.
Thirdly, the oil gas coming out from the reactor then go to condensing system and get liquid oil. The gas which can't be liquefied under normal pressure will be designed to go back to combustion system through safety device. It can be recycled to heat the reactor as fuel, which will save energy for the whole working process.
Then, after finishing oil production, the temperature of the reactor will be cooled down, when the temperature falls down to 40℃, the carbon black will be discharged automatically.
Turning Plastic into Fuel Process 3D Video:
Multiple Choices of Beston Plastic Waste to Fuel Plant:
Beston plastic to fuel plant mainly includes continuous type and batch type. There are some differences between them:
1. The feeding hole of continuous plant is very small, so it needs shredder machine to crush the large or rigid plastic materials into small pieces. Besides, if the humidity of the plastic waste is higher than 15%, we also need a dryer to dry these plastics. While batch plant needn't the pre-treatment device.
2. For the continuous plastic pyrolysis plant, the feeding of plastics and discharging of carbon black are both automatic. While for the batch plant, the feeding process is manual.
3. The continuous plastic into fuel machine for sale can continuously work 3-4 shifts per day, and it does not need to be cooled before the second batch, which saves time and improves efficiency. While the batch plant can only work one shift per day, and its reactor needs to be cooled.
With the advanced pyrolysis technology and mature devices, our waste plastic to fuel conversion plant has been exported to more than twenty countries. Warmly welcome to visit our factory and our plants, and we are looking forward to cooperating with you.
Beston Pyrolysis Plant Types:
Model
BLJ-6
BLJ-10
Daily Capacity
6T
8-10T
Total power
24 kw/h
30 kw/h
Floor area (L*W*H)
20*10*10 m
25*15*10 m
Size of reactor
D2.2*L 5.1m
D2.8*L6.2 m
Pattern
Horizontal & rotary
Working method
Batch
| | |
| --- | --- |
| Model | BLL-16 |
| Daily capacity | 16-20T |
| Working method | Semi-continuous |
| Size of reactor | D2.8 *L7.1 m |
| Pattern | Horizontal & rotary |
| Floor area | 25*15*10 m (L*W*H) |
| Total power | 54 kw/h |
Model
BLL-30
BLL-40
BLL-50
Daily Capacity
30T
40T
50T
Working method
Fully continuous
Size of reactor
L12.5*W2.2*H2.5m
Pattern
Not rotary type
Floor area
20*15*10m
33*15*10m
33*15*10m
Total power
53.6kw/h
62kw/h
84kw/h
Advantages of Beston Waste Plastic to Fuel Conversion Plant:
1. Safe: our plastic into fuel plants are equipped with mature safety devices, such as alarm for over temperature and pressure, auto pressure releasing system, extra gas recycling system and fire fighting device, which will guarantee safety in production process.
2. Energy saving: by the extra gas recycling system, the gas generated can be recycled to heat the reactor as fuel, which will save energy for the whole working process.
3. Environment friendly: in the dedusting system, three steps are used to dedust the extra gas. More than 95% of the dust would be removed. The released gas is pollution-free and can be discharged into the air directly.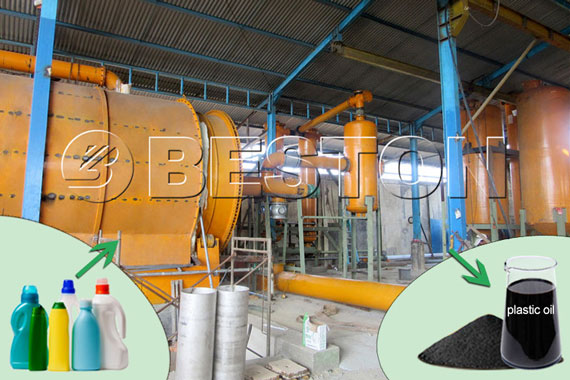 Basic Parameter:
Data
BLJ-6
BLJ-10
BLL-16
BLL-30,BLL-40,BLL-50
Daily capacity
6 MT
10 MT
20 MT
30MT,40MT,50MT
Raw material
Waste tires,rubber,plastic,oil sludge,medical waste
Working method
Batch
Semi-Continuous
Fully continuous
Operating pressure
Constant pressure
Reactor rotate speed
0.4 turn/minute
Not rotary type
Total power
24 kw/h
30 kw/h
54 kw/h
53.6,62,84(kw/h)
Reactor size(m)
2.2*5.1
2.8*L6.2
D2.8 *L7.1
L12.5XW2.2XH2.5
Space (L*W*H)
20*10*10 m
25*15*10 m
25*15*10 m
20*15*10m,33*15*10m
Related Reading