Pyrolysis is an advanced technology used in disposing of waste plastics. Adopting such technology, our waste plastic pyrolysis plant can convert waste plastics into oil and carbon black, which are both in high demand in the market. Usually, the plastic pyrolysis process can be described as follow: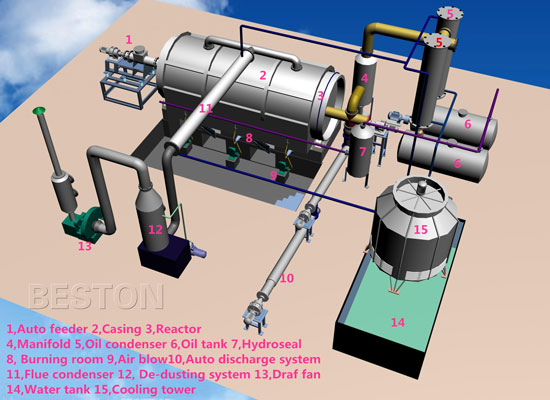 First of all, feed the waste plastics into the pyrolysis reactor.
Secondly, burn the fuel materials (coal, or wood, or natural gas, oil) to heat the reactor. The reactor will be slowly heated, when the temperature reaches around 250℃, the oil gas will be produced.
Thirdly, oil gas will be processed by our technology and then goes to cooling system to be liquid oil. The gas which cannot be liquefied under normal pressure will go back to combustion system. It will replace the fuel material to burn the reactor, which is energy saving and environment-friendly.
Fourthly, after finishing oil production, the temperature of reactor will be down. When the temperature falls down to 40℃, we can discharge carbon black automatically.
Lastly, the smoke produced from heating reactor can achieve national emission standard through the advanced dedusting system.
Generally, we have two operating systems available for your choice, batch system and continuous system. The 
plastic pyrolysis oil
process is mainly different in three aspects. Firstly, for the continuous type, it is equipped with an auto-feeder, so the feeding of plastics is automatic. While for the batching type, the feeding process is manual. Secondly, the continuous type needs pretreatment devices. The
continuous pyrolysis plant
has a small feeding hole, so if the plastics are large and rigid, it needs shredder to crush the plastics. In addition, a dryer also needed if the water percentage of plastic is higher than 15%. While the batching system doesn't need this device. Thirdly, the continuous type can work 3-4 shifts per day, while the batch type works 1 shift per day and the reactor must be cooled before the second batch.
To satisfy various customers' demand, we have 4 models available for your choice. BLJ-06 and BLJ-10 are batch operating systems; BLL-16 is semi-continuous system; BLL-20 is fully continuous systems. Besides, we can also customize the plant for you. No matter which set of plant you buy, you will surely get high benefits.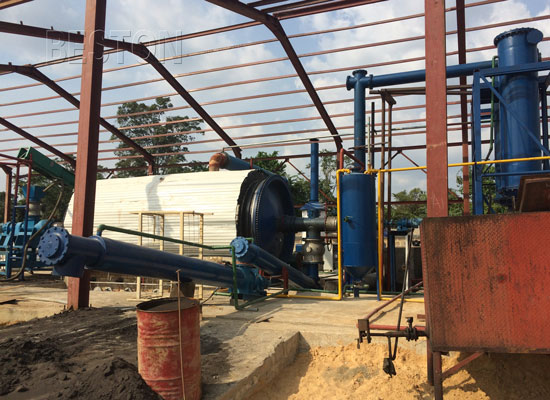 Model
BLJ-6
BLJ-10
BLJ-16
BLL-20
Daily Capacity
6T
8-10T
15-20T
20-24T
Working Method
Batch
Semi-Continuous
Fully Continuous
Raw Materials
Waste Plastic, Tyre, Rubber, Oil Sludge
Reactor Size
D2.2*L6.0m
D2.6*L6.6m
D2.8*L7.1m
D1.4*L11m
Pattern
Horizontal & Rotary
Heating Materials
Charcoal, Wood, Fuel Oil, Natural Gas, LPG, etc.
Total Power
24kw/h
30kw/h
54kw/h
71.4kw/h
Floor Area (L*W*H)
30*10*8m
30*10*8m
40*10*8m
45*25*10m
Operating Pressure
Normal Pressure
Constant Pressure
Cooling Method
Water Cooling
Service Life
5-8 Years