Students and professors at University of North Carolina Wilmington have a small contraption that they believe can simultaneously solve environmental and economic issues by turning plastic, a pollutant, into oil, a commodity. Now, those involved with the project are working to convince local business leaders and government officials to implement the concept.
The piece of equipment is called a tabletop depolymerizer, and UNCW is the first university to receive one, said Scott Davis, Plastic Ocean Project business development intern. The college partnered on the research with national nonprofit Plastic Ocean Project and PK Clean, the makers of the technology.
The U.S. Energy Information Administration (EIA) reports, "In the United States, plastics are not made from crude oil. They are manufactured from hydrocarbon gas liquids (HGL) and natural gas. HGL are byproducts of petroleum refining and natural gas processing. These liquids are used as feedstocks by petrochemical manufacturers to make plastic and are used as fuels in the manufacturing process."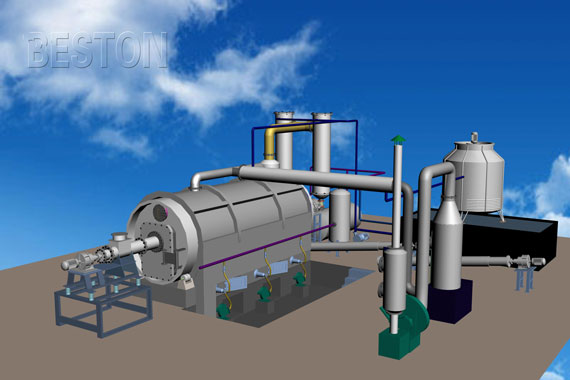 Plastic Ocean Project executive director Bonnie Monteleone was the driving force behind UNCW acquiring the technology, Davis added. Monteleone, who also works in the chemistry department at UNCW, has completed countless expeditions to gather data and marine plastic.
The equipment's location at UNCW means not only can Monteleone use it, but grad students and members of the college's chapter of Plastic Ocean Project can too. Currently, Davis said, they are working to figure out what type of plastic creates what type of oil — and, subsequently, how each type of oil can be used. They've been able to form oil out of all types of plastic except PVC.
The technology hasn't caught on yet because earlier versions made by other companies yielded a toxic byproduct, Davis said, and there hasn't previously been data to prove a return on investment.
He hopes municipalities will take interest in PK Clean's large-scale unit, which can process 10 tons of mixed recycling daily. Local industries showing interest in the technology are asphalt and petrochemical, he said. Davis and Monteleone are also spreading the word around campus, holding informational events April 4, and April 5 they presented the equipment and research to a few of the New Hanover County Commissioners.
Plastic Ocean Project's main mission is keeping plastic out of the ocean, which PK Clean's new technology would do. Plastic Ocean Project estimates there are 600 million pounds of plastic in the ocean, where it can be consumed by marine life.
PK Clean's technology would also keep plastic out of landfills. Three hundred million tons of plastics are produced globally each year, brochures distributed during the April 4 meeting stated, yet only about 10 percent is recycled. Davis said there's just not enough motivation to recycle.
One problem for consumers is convenience — there aren't always nearby recycling bins and some municipalities, like Davis' Wrightsville Beach community, don't offer curbside recycling. For municipalities, the issue is economic.
"Right now, New Hanover County is losing about $40 per ton of plastic that they collect out of the recycling stream because as oil prices drop, plastic waste loses value," Davis said.
PK Clean's data shows the large-scale unit, with the ability to process 10 tons daily, will pay for itself in less than three years.
Davis believes if people and municipalities know their recycling efforts go directly toward creating a valuable commodity like oil, they will be more likely to recycle.
"Once people know that it's actually going to serve a purpose, create more revenue for municipalities, then you're much more inclined to throw it in the recycling bin," he said.
Davis, Monteleone and representatives from PK Clean are working to get others to buy into the concept by appealing to people's minds and pocketbooks but also to their hearts, by encouraging them to be part of solving what Davis calls the "completely avoidable problem" of plastic pollution.
"Hope, that's my biggest selling point," he said.
Article source: http://luminanews.com/2016/04/technology-turns-plastic-into-oil/