The BLJ-16 semi-continuous operating pyrolysis plant, with processing capacity 15-20t/d, is developed based on the batch operating pyrolysis plant. It can deal with various kinds of waste materials, such as plastic, tyre, rubber, oil sludge, medical waste etc. Through the semi-continuous plant, the waste can be converted into fuel oil and other end-products. All the end-products are useful resources and have high economic values in the market.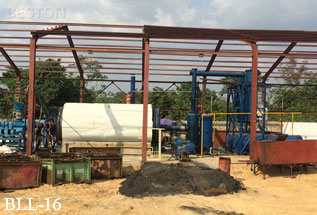 Compared with the batch plant, BLJ-16 has similarities and differences:
Differences:
1. The BLJ-16 plant can work 3-4 shifts per day and its reactor needs to be cooled down before the second batch. It needs only one hour to cool the reactor.
2. It has a small feeding hole, so the materials need to be cut into small pieces. For plastic waste, if the materials' humidity is higher than 15%, it also a dryer to dispose the waste first. When disposing medical waste, the plant also needs disinfection system and crushing system. The pre-treatment step can make the pyrolysis process more efficient.
3. The feeding of raw materials and discharging of slags are both automatic, which can greatly save manpower and cost.
Similarities:
1. The structure of reactor for the pyrolysis process is 360-degree rotating. This special design makes the bottom of reactor heat evenly, which lengthen the service life of reactor as well as improve the pyrolysis speed.
2. The semi-continuous plant is equipped with advanced safety device (alarm for over temperature and pressure, auto pressure releasing system, extra gas recycling system, fire fighting devices) and advanced dedusting system (water washing, ceramic ring adsorption, water spray), which will guarantee safety and no pollution in production.
3. BLJ-16 adopts new type of condensers which has larger cooling area and better cooling effect, so it can improve the oil yield efficiency by 5%. In addition, the catalyst we use is made from 24 chemicals, which can overcome the disadvantage of the traditional boiler with low oil output and bad oil quality.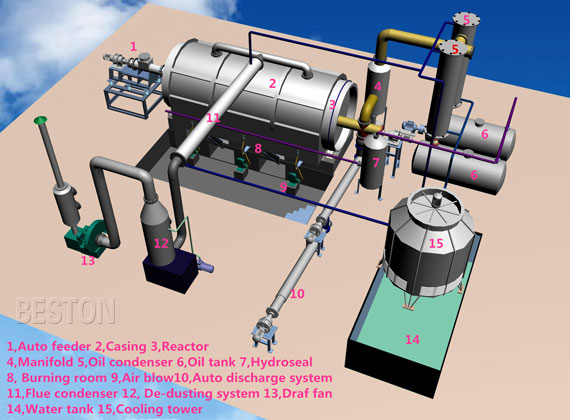 | | |
| --- | --- |
| Model | BLJ-16 |
| Daily Capacity | 15-20T |
| Working Method | Semi-Continuous |
| Raw Materials | Waste Plastic, Tyre, Rubber, Oil Sludge |
| Reactor Size | D2.8*L7.1m |
| Pattern | Rotary |
| Heating Materials | Charcoal, Wood, Fuel Oil, Natural Gas, LPG, etc. |
| Total Power | 54kw/h |
| Floor Area (L*W*H) | 40*10*8m |
| Operating Pressure | Constant Pressure |
| Cooling Method | Water Cooling |
| Service Life | 5-8 Years |
Related Posts