The waste tire pyrolysis equipment manufactured by Beston Group adopts the technology of "micro-negative pressure pyrolysis", which can treat waste tires into four products: fuel oil, carbon black, steel wire and combustible gas. The pyrolysis oil from waste tires can be further refined into gasoline, diesel and asphalt by tire oil distillation plant. If this technology can be vigorously promoted all over the world, it can not only effectively deal with waste tires and eliminate the pollution, but also can ease energy crisis to a certain extent.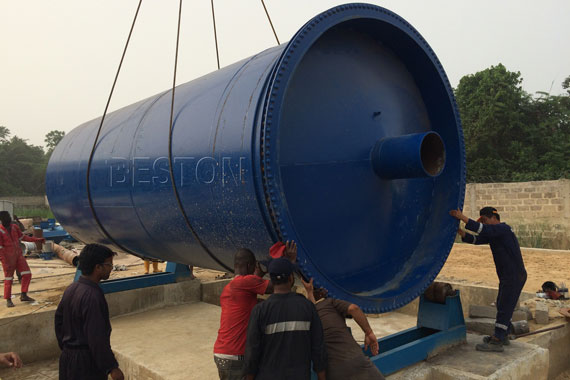 Superiority of the new type waste tire pyrolysis recycling plant:
Firstly, the new scrap tire pyrolysis plant adopts zero stripping technology, which is different from the traditional technology. It doesn't need special technology to separate steel wire and rubber for the second time in the pyrolysis process. This operation has a key role in reducing energy consumption, thereby reducing capital investment, which enhances the economic benefits to a large extent.
Secondly, in order to effectively ensure that the gas doesn't spill in the production process and improve pyrolysis efficiency, the thermal pyrolysis adopts micro-negative pressure process technology. The advantage can fundamentally eliminate the insecurity that caused by gas spill.
Thirdly, in the waste tyre pyrolysis production process, after pyrolysis, most of the rubber is converted into liquid oil, and a small amount of combustible gas can be recycled as fuel material for pyrolysis reactor, thus ensuring the heat energy supply for the reactor, reducing emissions, as well as improving the economic and environmental benefits.
Fourthly, the new tire pyrolysis plant design is in line with international standards. It has compact structure, scientific and efficienct production process, safe and stable operation, strong process power, appropriate and reasonable matching between various systems. It has positive significance in improving working efficiency, reducing energy consumption and protecting the ecological environment.
Batch waste tire pyrolysis technology and equipment
Raw materials
Waste tires, rubber, plastic, soles
Pattern
Horizontal, rotary
Operating pressure
Normal pressure
Fuel materials
Coal, wood, fuel oil, natural gas, etc.
Average oil yield
50%
Cooling method
Water cooling
Service life
5-8 years