Getting the pyrolysis oil from plastic waste is a new method to solve the issue of waste plastic pollution. In the pyrolysis process, waste plastic is effectively converted into fuel oil and carbon black. Both of the end-products are useful resources and have wide applications. The fuel oil can be used as industrial fuel materials for burning, or further refined to diesel or gasoline. The carbon black can be used for construction bricks with clay or used as fuel. They are both in high demand and fetch good prices in the market, which will surely create more benefits for you.
Besides, the waste plastic to oil plant has the features of safe, pollution-free and high efficiency.
Safe
The plant is equipped with safety device (alarm for over temperature and pressure, auto pressure releasing system, extra gas recycling system, fire fighting devices), which will avoid danger and guarantee safety in production.
Pollution-free
In the dedusting system, three steps (dust chemical removing tank, ceramic ring filtering system and alkali sprayers) are used to dedust the hot smoke from reactor, more than 95% of the dust would be removed. The released gas is pollution-free and can be discharged in the air directly.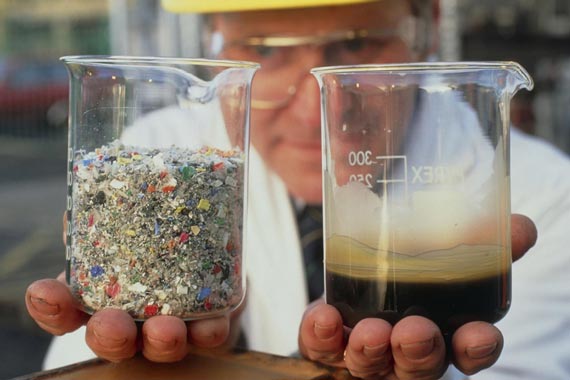 High efficiency
We have two special methods to help to improve the oil yield efficiency. Firstly, compared with general condensers, our tubular condenser has the features of larger cooling area and better cooling effect, which can further ensure and improve the oil yield efficiency. Besides, it is easy to maintain, which is very convenient for customers. Secondly, we can provide special catalyst, which is made from 24 chemicals. The catalyst can not only reduce sulfur content and density of oil, but also improve its flavor and color. It can increase average oil output by 5%.
Model
BLJ-6
BLJ-10
BLJ-16
BLL-20
Daily Capacity
6T
8-10T
15-20T
20-24T
Working Method
Batch
Semi-Continuous
Fully Continuous
Raw Materials
Waste Plastic, Tyre, Rubber, Oil Sludge
Reactor Size
D2.2*L6.0m
D2.6*L6.6m
D2.8*L7.1m
D1.4*L11m
Pattern
Horizontal & Rotary
Heating Materials
Charcoal, Wood, Fuel Oil, Natural Gas, LPG, etc.
Total Power
24kw/h
30kw/h
54kw/h
71.4kw/h
Floor Area (L*W*H)
30*10*8m
30*10*8m
40*10*8m
45*25*10m
Operating Pressure
Normal Pressure
Constant Pressure
Cooling Method
Water Cooling
Service Life
5-8 Years