Generally, we can get 1 ton plastic oil with 2.5 tons waste plastics by the pyrolysis plant. Now we have designed the plastic into diesel machine, which can help us to convert waste plastic oil into diesel.The machine adopts the latest distillation technology, which can convert plastic to diesel very efficiently. In the distillation process, the machine can effectively remove the particles, colloidal matter, acid and odour from plastic oil by acid-treatment and filtration. Finally we can get diesel fuel with clean and transparent color and qualified smell. These diesel fuel can be widely used in more kinds of diesel engines and will produce less smoke and less noise than regular diesel fuel.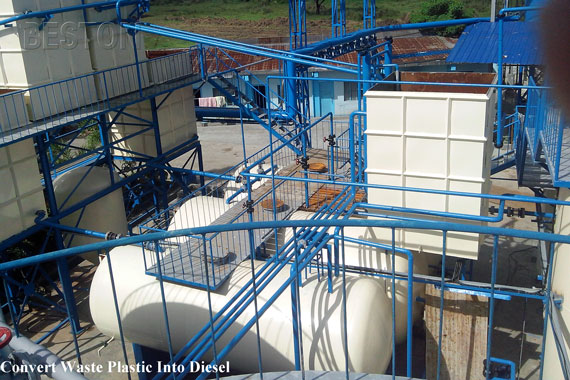 Based on different customers'demands, we have batch and continuous type to meet your requirements and financial budget. BZJ-06 and BZJ-10 are batch operating machines. Their capacity ranges from 6T to 10T per day. Our waste plastic to diesel machines have the following advantages:
(1) All the plants have passed CE, ISO, SGS certificates.
(2) Latest double vertical tubular condensers, more cooling area, more effective cooling effect and higher oil yield.
(3) Equipped with safety valves, auto alarming system, anti-explosion valve, which will guarantee 100% safety.
Convert Waste Plastic Into Diesel Video:
(4) Flue tube condenser, cool down the exhaust gas from the burner, protect draft fan and improve dedusting effects.
(5) Adopts Three-layer dedusting system to cleanse the exhaust gas to reach European pollution control standards.
(7) The feeding and discharging systems are both automatic, which saves time and much manpower.
Besides, we also have our own factory, so we can promise you a wider range of after-sale service. For each set of machine, we will send technicians to guide your installation, test the machine and train your workers until you can run the machine smoothly. What's more, 1 year warranty period will be provided and our engineers are ready to serve at any time.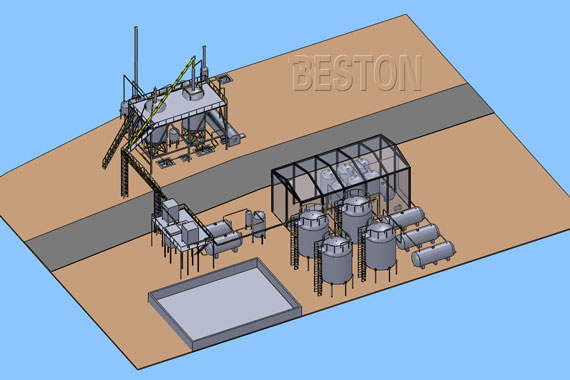 Model
BZJ-06
BZJ-10
Capacity
6T/D
10T/D
Oil Yield
5.1T/D
8.5T/D
Working Method
Batch
Raw Materials
Crude oil, waste oil, fuel oil, used engine oil
Heating Materials
Oil, LPG, natural gas, wood, coal, etc.
Power
20KW
36KW
Structural Form
Vertical
Cooling Method
Water cooling
Operating Pressure
Normal and Vacuum
Service Life
5-8 years