As a professional tire pyrolysis plant manufacturer in China, Beston Machinery has more than 18 years' experience in tire recycling field. Today we will address some practical advice for you to start your tire pyrolysis plant.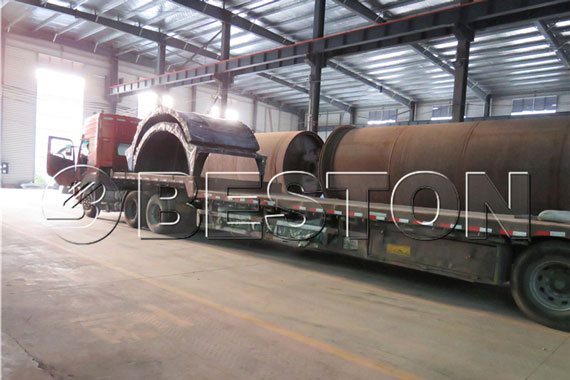 Firstly, study the market of the tire pyrolysis machine in your own country. 1. Capture the local price of the waste tyres, and make sure you can collect more than 6 ton waste tyres per day. Using waste tyres as raw material will save much cost for you. As cars are becoming more and more common, the number of waste tyres is increasing, so collecting waste tyres is easy. 2. The local prices of the end-products, such as tire oil, carbon black and steel wire. In fact, these products are in high demand and fetch good prices anywhere. And with energy shortage increasing, the oil price could only go up.
Secondly, prepare a piece of land for installing the pyrolysis plant. Different models of the machines have different covering areas. For our waste tyre pyrolysis machines, we have six models available for your choice, BLJ-6, BLJ-10, BLL-16, BLL-30, BLL-40 and BLL-50, and their floor spaces are respectively different. You can choose the model according to you budget and land. We can also customize the plant according to your requirement. Choosing where to establish the plant and how much space prepared for the plant are foundations when you decide to start the plant.
Different covering areas of different models: (L*W*H)
| | |
| --- | --- |
| BLJ-6 (capacity: 6t/d) | 20*10*10 m |
| BLJ-10 (10t/d) | 25*15*10 m |
| BLL-16 (20t/d) | 25*15*10 m |
| BLL-30 (30t/d) | 20*15*10m |
| BLL-40 (40t/d) | 33*15*10m |
| BLL-50 (50t/d) | 33*15*10m |
After finishing the above preparations, you can choose a tyre pyrolysis machine to buy. Quality and safety are the most important things for a tyre recycling machine. These are some advantages of Beston waste tyre recycling machines for your reference:
1. All the machines have passed CE, ISO, SGS certifications and have high quality guarantee.
2. The machines are equipped with safety devices (alarm for over temperature and pressure, auto pressure releasing system, extra gas recycling system, fire fighting devices) and advanced dedusting system (water washing, ceramic ring adsorption, water spray), which will guarantee safety and no pollution in production.
3. In the tyre pyrolysis process, some combustible gas can not be converted into oil liquid in normal temperature and pressure, which could be recycled to the bottom of the reactor for reheating through the pipe of tail gas. In this way, it can avoid the gas contamination and save the fuel energy.
Beston Service:
Please do NOT assume we are limited to manufacture and sell machines, to perform the idea of "Engineering For Tomorrow's World", in the whole world, Beston also provide the below service:
1. Related project technology and cost consulting.
2. Related products testing and making certification.
3. Products upgrading, Parts/Quick-Wear Parts/Catalyst supplying, Team training, Project agent running.
4. Turnkey Projects and Value-added Service.
5. Joint venture.