In an attempt to ensure that used tyres are disposed properly, a 16-year-old boy from the city has designed a website which will serve as an aggregator of such tyres.
The web portal, Tyrlessly, created by Anubhav Wadhwa was launched this month. Anubhav is a student of Pathways World School, Aravali.
Anubhav said the idea of creating a website like this came to his mind when he saw someone burning used tyres one day. The incident left him wondering what happens to all the discarded tyres.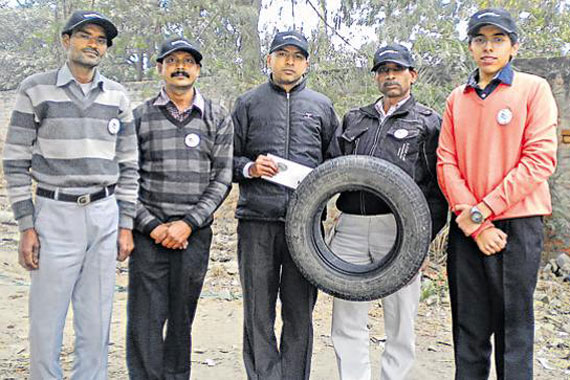 He checked the internet and learnt that burning of tyres releases many toxic gases and is a major environmental hazard.
Determined to make a change, Anubhav started the portal. On the portal, anyone can request the company to pick up their old tyres. Once the tyres are picked up, they are sent to a recycling plant where they undergo pyrolysis– extraction processes which can convert tyres into usable by-products like fuel oils, steel etc.
"Generally, old tyres are carelessly burned to produce heat, especially in sugarcane industries. Most of these industries burn tyres in a manner that is hazardous to the environment. The only way forward is to embrace pyrolysis," said Anubhav.
Anubhav said he believes that recycling old tyres will, over the years, help save a lot of landfill space in the country.
As a most professional manufacturers of waste tyre pyrolysis plant in China, Beston Machinery is aimed at converting waste tyres into fuel oil, carbon black and steel wire through pyrolysis technology. By using the advanced plant, we can not only turn waste into wealth, but also further improve the environment. For our waste tyre pyrolysis plant, it has many advantages:
1. All the machines have passed CE, ISO, SGS certifications and have high quality guarantee.
2. The machines are equipped with safety devices and advanced dedusting system, which will guarantee safety and no pollution in production.
3. In the process of pyrolysis, some combustible gas can not be converted into oil liquid in normal temperature and pressure, which could be recycled to the bottom of the reactor for reheating through the pipe of tail gas. In this way, it can avoid the gas contamination and save the fuel energy.
4. We will provide you with special methods to help you improving the oil yield efficiency and further ensuring your profit.