Each part in the world is connected with others, and the running of one material can drive the development of another thing. Therefore, with the implementation of the policy about environmental protection, the waste treatment also has raised the attention of people and government. Thus it also has promoted the development of waste recycling projects. Beston plastic pyrolysis machine is specially designed to dispose used plastic, which can convert waste plastic to fuel oil and carbon black to realize resource recycling.
After constant research and improvement, Beston waste plastic pyrolysis plant recently has enjoyed a great praise as its outstanding characteristics: high oil yield, advanced technology, compact structure and stable performance, etc. Thus, more and more manufacturers are willing to cooperate with us.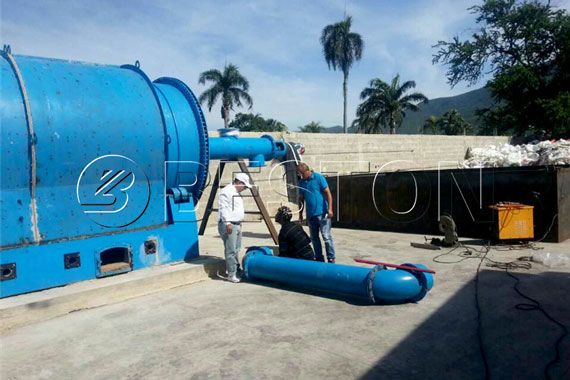 Beston plastic to oil machine for sale has installed the dryer and shredder devices to ensure the size and moisture of raw materials, which can also improve the quality of end products. Through high temperature pyrolysis, waste plastic can gradually generate oil gas in reactor, and then the oil gas will have a further process passing through the condenser system, cooling system, hydroseal, dedusting system and etc. Finally, the waste plastic will be processed into fuel oil and carbon black, both of which have a wide range of applications. The most excellent design of our plastic to oil plant is energy-saving. In the operating system, there is some combustible gas generating, which contains some hazardous components. However, through the purified of hydroseal system, the harmful contents will be removed from combustible gas, and then the gas will be recycled to heat reactor. In this way, it can not only reduce the cost of energy consumption, but also can protect the environment. In addition, the combustible gas has higher caloric value than coal.
The demands of energy in the market has become more and more urgency, and the end products of waste plastic pyrolysis equipment have made a great contribution to the energy shortage, and they also have been applied in wide areas. For example, the pyrolysis oil, with higher burning value, has been widely used as fuel directly in some chemical industries, melting industries and even many restaurants. In addition to be used directly, the fuel oil can be also further processed into diesel, which is more precious in the market. As for carbon black, it can be processed to fine carbon powder by the grinder, and the carbon powder can be used as additive to produce higher new products.
Beston waste pyrolysis plant has been applied to many countries to run and product, such as Korea, Jordan, Brazil, Hungary, Dominica, etc. Moreover, we have also gotten high speaking from our clients. Therefore, with rich exporting experience, we can promise you that our project must give you a handsome profits.
In addition to these characteristics, Beston pyrolysis machines for sale also have obvious environmental efficiency, high working efficiency, higher yield, etc. If you are interested in our products, welcome to have a field visit.