For the customers who want to make the waste pyrolysis plant operate automatically, save more manpower and handle more raw materials, the full continuous pyrolysis plant is the best choice. We have three types of BLL series auto continuously operating pyrolysis plant available for your choice, such as BLL-20.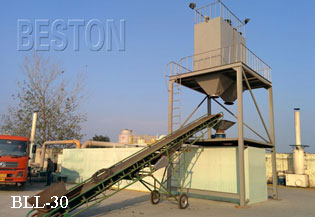 The BLL series of pyrolysis equipment can handle waste tires, rubber, plastic, oil sludge as well as medical waste. By using the fully continuous waste pyrolysis plant, the waste can be successfully converted into useful resources, such as fuel oil and carbon black. Steel wire is also an end-product only for waste tires. All the end products have wide applications and are in high demand in the market. Our continuously operating pyrolysis plant is popular all over the world for its these advantages below:
1. Compared with traditional batch operating plants, our auto continuously operating pyrolysis plants have relatively larger processing capacities of 30-50mt per day.
2. The fully continuous plant can achieve feeding of materials and discharging of slags automatically, and can also finish the two steps at the same time, which not only saves time, but also saves fuels.
3. The reactor of our auto operating pyrolysis plant is stable and not rotary, which makes the temperature rise and pyrolysis react quickly. This special design makes the whole pyrolysis process efficient and can also save much heating materials.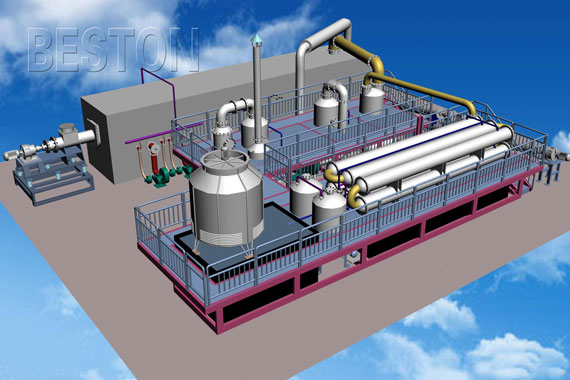 4. The plant is equipped with safety device (alarm for over temperature and pressure, auto pressure releasing system, extra gas recycling system, fire fighting devices) and advanced dedusting system (water washing, water spray, ceramic ring adsorption and activated carbon adsorption), which will guarantee safety and no pollution in production.
5. Before pyrolysis, the tyres and plastics need to be cut into small pieces. For plastic waste, if the materials' humidity is higher than 15%, it also a dryer to dispose the waste first. This pre-treatment step can make the pyrolysis process more efficient.
6. The fully continuous operating plant can run for 24 hours a day without a stop and needn't be cooled before the second batch.
7. Our fully continuous pyrolysis plant adopts new type of condensers which has larger cooling area and better cooling effect. In addition, we can provide special catalyst, which is made from 24 chemicals. The catalyst can not only reduce sulfur content and density of oil, but also improve its flavor and color.
Auto Continuous Waste Plastic Pyrolysis Plant Video:
Auto Continuous Waste Tyre Pyrolysis Plant Video:
| | |
| --- | --- |
| Model | BLL-20 |
| Daily Capacity | 20-24 T |
| Working Method | Fully Continuous |
| Raw Materials | Waste Plastic, Tyre, Rubber, Oil Sludge |
| Reactor Size | D1.4*L11 m |
| Pattern | Horizontal |
| Heating Materials | Charcoal, Wood, Fuel Oil, Natural Gas, LPG, etc. |
| Total Power | 71.4kw/h |
| Floor Area (L*W*H) | 45*25*10m |
| Operating Pressure | Constant Pressure |
| Cooling Method | Water Cooling |
| Service Life | 5-8 Years |
Related Posts